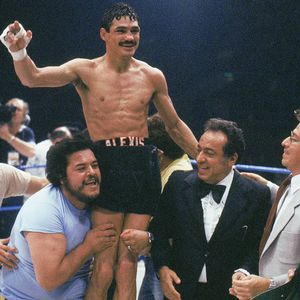 DAMN, this is a real bummer. I grew up watching Alexis' fights. "El Flaco Explosivo" was a national hero in Nicaragua and the whole country would shut down when he fought. Before the era of a bewildering number of "world championships" boxing had two sanctioning bodies which crowned a world champion for each weight class. Alexis won 3 separate titles. a major feat.

Alexis Arguello dies
.....from ESPN
MANAGUA, Nicaragua -- Alexis Arguello, who fought in one of boxing's most classic brawls and reigned supreme at 130 pounds, was found dead at his home early Wednesday.

Coroners were conducting an autopsy to determine the cause of death. Sandanista Party's Radio Ya and other local media were reporting it appeared to be a suicide.

[+] EnlargeAlexis Arguello
Getty ImagesAlexis Arguello was found dead Wednesday at 57. He is pictured in June 1981 after beating Jim Watt to win the WBC lightweight title.

The La Prensa newspaper reported that Arguello -- elected mayor of Nicaragua's capital last year -- was found with a gunshot wound to the chest.

The 57-year-old Arguello retired in 1995 with a record of 82-8 and 65 knockouts and was a champion in three weight divisions. He was perhaps best known for two thrilling battles with Aaron Pryor and fights with Ray Mancini, Bobby Chacon and Ruben Olivares.

"I'm kind of in a daze right now," Pryor told The Associated Press. "Those were great fights we had. This was a great champion."

Nicknamed "The Explosive Thin Man," Arguello was inducted in 1992 into the International Boxing Hall of Fame, where flags were flying at half-staff in his honor Wednesday.

Hundreds of people lined up to say goodbye to Arguello Wednesday night at a memorial service at the Palace of Culture in the capital of Nicaragua.
pic/ ESPN/Getty